Are you wondering if your diet is in balance? 80/20 Diet Rule is a good guide to get you there. 
Here are 5 simple steps on how to get to 80% :
Focus on the big picture and long-term results. Don't start a strict fad diet. It doesn't make you happy. Small but smart changes will get you there.
Learn about smart routines. A one-sided meal is not smart, too much sugar is not smart, skipping meals is not smart. Read our tips and listen to your body what is smart. Your body is telling you many things. Are you listening to these signals or do you follow your mind?
Find balance on your plate. The heart icon will tell how balanced your meals are. Getting 4-5 hearts for a meal with your drink tells you are doing good.
Follow up your days and weeks. You can easily follow your 80/20 score with the weekly overview inside the SHYE Coach app.
Don't overdo it. A smart balanced diet is flexible. When most of your meals have been awarded the green heart icon, the rest can be less healthy.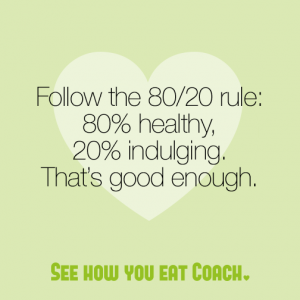 Are you uncertain if you are eating according to the 80/20 Diet Rule?
Read more about the 80/20 diet rule, and why it is good for you.
Remember to have a variety on your plate. The more you have colored the better.
And remember to eat.
Mia
founder of See How You Eat apps
@Health Revolution Ltd
Health Revolution is into developing simple and easy-to-use food tracking and nutrition coaching concepts for mobile platforms. Our mission is to help people discover the basics of healthy eating in a way suitable for today's hectic lifestyle. We are against fad diets. We stand for permanent balance. Our vision is a world without dieting. www.seehowyoueat.com